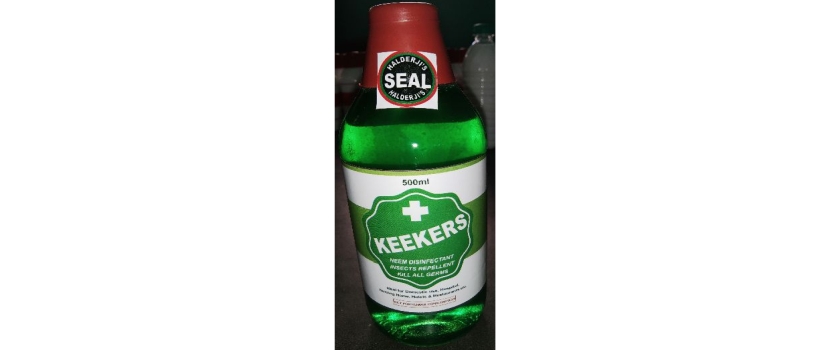 Market is flooded with different types of cleaners from different brands. Today, it is a must-have product for every household and many other places to keep the floors as well as bathrooms clean. Just mopping the dust is not enough, we all need a detailed cleaning to maintain good hygiene and health. Phenyl is one such product which indeed cleans the surface by killing germs but it has some chemicals which can be harmful for small kids and even pets. In the long run, exposure of such chemicals could have a negative impact on health.


With the changing demands, most of the brands have launched herbal ranges for phenyl which are made with natural ingredients and biodegradable. Neem Green phenyl is an apt anti-bacterial cleaner with advanced formulation which makes it perfect for the hygienic and clean environment.


Neem Green Phenyl is a dynamic floor cleaner with the presence of neem & a fresh naturally lured fragrance. This unique formulation makes it a perfect product for daily household "antibacterial" use while providing a clean and hygienic environment. It is highly used as a disinfectant in places such as hospitals, schools, offices, hotels, factories and many more such places where proper sanitisation is required especially after this pandemic situation. The practice of using phenyl as a disinfectant is very crucial to reduce the potential of Covid-19 virus contamination.


Moreover, Neem Green Phenyl is made with a unique and advanced Chlorine free formulation & 100% Natural action (anti-bacterial) ensures germ free floors for children & pets protecting them from germs that cause numerous diseases through unhygienic floors. The long-lasting natural fragrance of the product surely keeps your floors smelling fresh for a longer time. It also gives a shining and glossy look while removing hard stains from the floor.


Attributes of a Neem Green Phenyl


Formulated with natural and safe ingredients
The traditional floor cleaners usually consisted of a chemical called benzalkonium chloride which leaves some residue on the floor even after cleaning. This residue is harmful for small kids which may lead to certain diseases. Neem Green Phenyl is chloride free which makes it a herbal product.


Magic of Wonderful Neem
Neem is a powerful natural disinfectant which is safe, economical, available in abundance and quite effective in cleaning. Embracing natural products like neem not just for removing germs but also for keeping flies and mosquitoes away.


Keep your floor clean, safe and hygienic
With the help of cleaning the floor naturally, the chances of people getting sick at that place decreases. Cleaning at regular intervals is essential for places like hospitals where there is a high probability of spreading any kind of germ. Even a properly sanitised hygienic environment is necessary for the workers in the industries in order to enhance the productivity in the clean surrounding.



Effective in fighting off harmful microorganisms
This eco-friendly neem green phenyl offers 10 times better cleaning and removal of germs than the traditional cleaners available in the market. There are some harmful microorganisms which cannot be seen through naked eyes but present on the floor even after cleaning. This neem based phenyl works adequately to remove the microorganisms in order to offer good health with disinfected places.



Due to its amazing features , it is highly advisable to use herbal based floor cleaner. There are a number of manufacturers and suppliers dealing in Neem Green Phenyl to meet the huge demand of the market. A reputed Neem Green Phenyl manufacturer offers purest quality of product at affordable prices to its customers.



The popularity of Neem Green Phenyl manufacturers and suppliers is due to the following factors-


Their manufacturing and other operations are managed by some of the most experienced and proficient team of experts of the industry.
They keep themselves updated with the latest advancement in technology as well as market demands with which they meet and exceed the changing expectations of customers.
They use optimum grades of raw material to produce superior quality products with accurate composition.
The offered products are result oriented which are appreciated for their unmatchable quality, durability and affordable pricing.
They have strong industry knowledge along with certifications and government approvals such as ISO, GMP and license to manufacture.
They have a wide distribution network and reliable logistics team to ensure timely execution and delivery of products across the nation.
They offer highly effective cleaners in diversified customised packaging.
In conclusion, it can be stated that everyone should use Neem Green Phenyl in place of regular chemical phenyl as neem being a great herb is widely available throughout the country. It is not only eco-friendly but also provides better cleaning than any other phenyl. Therefore, it is highly recommended to choose a trusted Neem Green Phenyl supplier in India to buy a top quality product.